International Day of Femslash
is like the day that keeps on giving!! The day has finally arrived!! First off, thanks to everyone who signed-up! Please post your links to your lists in the comments to this post. If you didn't fulfill you're pledge, that's okay. This was more than about numbers and encouraging people to give back to the community. So, high-fives all around.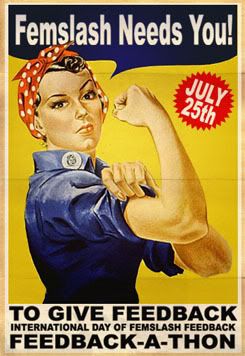 And if you're in a last minute crunch, there's plenty of fic/fic-a-thons that could use your feedback. Even if you didn't participate in IDoFF, there's always time to give feedback. Here's a small list of places to find fics:
femslash_today
has a listing of all the fics posted to LJ and/or Dreamwidth during IDoF -
Part One
,
Part Two
,
Part Three
,
Part Four
,
Part Five
,
Part Six
. I have no idea what the final count was in regards to works posted during IDoF other than 'a lot'!
thelittlebang
finished it's first multi-fandom long-fic challenge -
Masterlist
femslash09
also finished it's yearly challenge and has a ton of fics just waiting to be read -
Masterlist
femslash_today
's not-quite-so annual
Porn Battle
has loads of porny goodness.
And, of course,
Passion Perfect
has a nice long list of fics submitted for IDoF -
in the 'What's New' section
.
This is just the tip of the iceberg to all the places where femslash fic can be found. (If I missed anyone for IDoF, my sincerest apologies). My goal was to encourage more people to give feedback fandom. In the near future, I'll be asking for tips and suggestions to make the next challenge even better!
Because

If I understand correctly, a b

eta reader

is essentially like an editor or proof reader. It took me a while to identify the meaning of this (beta) term. I would like to offer my services as a beta reader for any Stargate fan-fiction and ESPECIALLY for Sam & Janet.

I have watched EVERY Stargate SG-1 episode more times than I can count (even the 'hateful' Heroes 2 !) and all of the Stargate Atlantis episodes at least once, as well the Stargate related movies. I have read any and all Sam/Janet fanfiction that I can get my hands on! (Many, many more than listed in my posts. More to come with proper LJ links.)

While I have not fully explored my own creative writing talents, I have been told by many that I am a skilled non-fiction writer. As a result, I do a considerable amount of writing or proof reading for speeches, essays, research papers, reference letters and the like.

I would like to be able to offer support to the many talented authors and perhaps contribute in some way to the Sam/Janet or SG-1 communities.



"Reminders"



The Sam and Janet Ficathon
sam_janet_fthon
is fast approaching (Sept. 1) hosted by
dhamphir
Don't
forget!
July 18
idof_feedback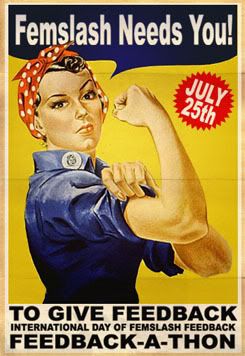 hosted by
trancer21
ps: thanks to
geonncannon
and
ml_spikie
for tutoring me in the ways of LJ (I think I have gone from a "neophyte to padawan".)


The Rules:

It's easy
1. Leave your name and the number of feedbacks you're planning to leave, ie, trancer21, 25
1a. If you don't have a Livejournal account, or something similar, anonymous posting is enabled so you can leave your email address and the number of feedback, ie, IDoF_Feedback@yahoo.com, 10
1b. If you don't want to post your email publically, you can post your online handle, number of pledges, then send me an email with your post. This info will be kept on a non-public list.
2. Go out and LEAVE FEEDBACK!!
3. Maintain a list of the media (fic, graphics, vids, etc) you left feedback for, the manner in which it was sent, ie, LJ comment, email, message board,etc
4. Then, on July 25th, there will be a Master List created where you send a link to your master list, or (if you posted anonymously) post to the list.
This is the official sign-up post for the International Day of Femslash Feedback.
International Day of Femslash Feedback
. Whether you're a writer, a reader, a lurker or something in between - if you read fic, watch vids, look at artwork, download fanmixes, etc. - YOU CAN GIVE FEEDBACK!!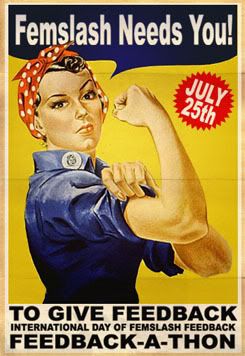 And it's really easy!
SIGN UP HERE
up with your pledge of a minimum of 10 pieces of feedback (it doesn't matter whether the media was posted yesterday, 10 weeks, 10 months or 10 *years* ago) and on July 25th, a week after International Day of Femslash, there will be Master Post where you give a link listing the media where you gave feedback. A hundred people pledge a minimum of 10 pieces of feedback, that's a THOUSAND pieces of feedback out there in Femslash fandom!
Now's the time to give back to the community we all know and love. And we're asking for your support (or, in my case, begging).
SIGN UP HERE
with your pledges, you can volunteer for 10, 25, 50, hell, 100! The more the merrier!
How does this work? If you're on LJ, or similar, leave your name and the number of feedbacks you plan to give. If you're not on LJ, anonymous posting is enabled, leave your email and the number of feedback you plan to give. If you prefer not to publically post your email address, post using your online handle and send an email to me with your post which will be kept on a non-public list.
So, please sign up, show your support and spread the femslash love. I'm not above begging.. or, you know, bribery!
We all know Femslash suffers from lack of feedback. Now's the opportunity to do something about it with